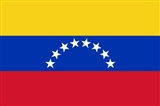 Venezuela
Venezuela , officially called the Bolivarian Republic of Venezuela , is a tropical country on the northern coast of South America. It borders Colombia to the west, Guyana to the east, and Brazil to the south...
Timeline of Events
1498

1558

10.9.1558

Mérida is founded in Venezuela.

1567

7.25.1567

Don Diego de Losada founds the city of Santiago de Leon de Caracas, modern-day

Caracas

, the capital city of Venezuela.

1810

1811

7.5.1811

Venezuela declares independence from

Spain

.

1812

3.26.1812

An earthquake destroys

Caracas

, Venezuela.

1813

1819

12.17.1819

Simón Bolívar

declares the independence of the Republic of Gran Colombia in Angostura (now Ciudad Bolívar in Venezuela).

1821

6.24.1821

The Battle of Carabobo takes place. It is the decisive battle in the war of independence of Venezuela from

Spain

.

1831

1945

10.18.1945

A group of the Venezuelan Armed Forces, led by Mario Vargas, Marcos Pérez Jiménez and Carlos Delgado Chalbaud, staged a

coup d'état

against then president Isaías Medina Angarita, who is overthrown by the end of the day.

1956

1958

1.23.1958

Overthrow in Venezuela of Marcos Pérez Jiménez

1967

7.29.1967

During the fourth day of celebrating its 400th anniversary, the city of

Caracas

, Venezuela is shaken by an

earthquake

, leaving approximately 500 dead.

1988

3.17.1988

1989

2.27.1989

Venezuela is rocked by the Caracazo riots.

1992

2.4.1992

A Coup d'état is led by Hugo Chávez Frías, against Venezuelan

President

Carlos Andrés Pérez.

11.27.1992

For the second time in a year, military forces try to overthrow president Carlos Andres Perez in Venezuela.

1998

12.6.1998

Hugo Chávez Frías, Venezuelan military officer and politician, is elected

President

of Venezuela.

12.6.1998

Hugo Chávez Frías, Venezuelan military officer and politician, is elected

President

of Venezuela.

2001

1.25.2001

A 50-year-old

Douglas DC-3

crashes near Ciudad Bolivar, Venezuela killing 24.

2002

4.14.2002

Venezuelan President

Hugo Chavez

returns to office two days after being ousted and arrested by the country's military.

2004

12.14.2004

Cuba

and Venezuela found the Bolivarian Alliance for the Americas.

2005

8.16.2005

West Caribbean Airways Flight 708 crashes near Machiques, Venezuela, killing the 160 aboard.

2007

8.4.2007

Airport police officer María del Luján Telpuk discovers a suitcase containing the undeclared sum of US$800,000 as it goes through an x-ray machine in Aeroparque Jorge Newbery in

Buenos Aires

, sparking an international scandal involving Venezuela and

Argentina

known as "Maletinazo".