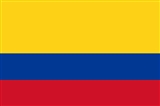 Colombia
Colombia, officially the Republic of Colombia , is a unitary constitutional republic comprising thirty-two departments. The country is located in northwestern South America, bordered to the east by Venezuela and Brazil; to the south by Ecuador and Peru; to the north by the Caribbean Sea; to the northwest by Panama; and to the west by the Pacific Ocean...
Timeline of Events
1538

8.6.1538

Bogotá

, Colombia, is founded by Gonzalo Jiménez de Quesada.

1539

1773

6.17.1773

Cúcuta (Colombia) is founded by Juana Rangel de Cuéllar.

1821

1831

1851

1903

1909

1.5.1909

Colombia recognizes the independence of

Panama

.

1935

6.25.1935

Diplomatic relations between the

Soviet Union

and Colombia are established.

1936

1945

1948

4.9.1948

Jorge Eliécer Gaitán's assassination provokes a violent riot in

Bogotá

(the ''Bogotazo''), and a further ten years of violence in Colombia known as ''La violencia''.

4.30.1948

In

Bogotá

, Colombia, the Organization of American States is established.

1968

1979

12.12.1979

A major earthquake and tsunami kill 259 people in Colombia.

1985

11.6.1985

In Colombia, leftist guerrillas of the April 19 Movement seize control of the Palace of Justice in

Bogotá

, eventually killing 115 people, 11 of them Supreme Court justices.

1988

1989

8.18.1989

Leading presidential hopeful Luis Carlos Galán is assassinated near

Bogotá

in Colombia.

8.24.1989

Colombian drug barons declare "total war" on the Colombian government.

11.27.1989

Avianca Flight 203, a

Boeing 727

, explodes in mid-air over Colombia, killing all 107 people on board and three people on the ground. The Medellín Cartel claimed responsibility for the attack.

1992

7.22.1992

Near Medellín, Colombian drug lord Pablo Escobar escapes from his luxury prison fearing extradition to the

United States

.

1993

12.2.1993

Colombian drug lord Pablo Escobar is shot and killed in Medellín.

1995

1996

9.4.1996

War on Drugs

: Revolutionary Armed Forces of Colombia (FARC) attack a military base in Guaviare, starting three weeks of

guerrilla warfare

in which at least 130 Colombians are killed.

1999

2002

1.28.2002

TAME Flight 120, a

Boeing 727

-100 crashes in the Andes mountains in southern Colombia killing 92.

2008

7.2.2008

Ingrid Betancourt, and 14 other hostages held by FARC guerrillas, are rescued by the Colombian armed forces.