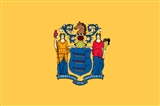 New Jersey
New Jersey is a state in the Northeastern and Middle Atlantic regions of the United States. , its population was 8,791,894. It is bordered on the north and east by the state of New York, on the southeast and south by the Atlantic Ocean, on the west by Pennsylvania and on the southwest by Delaware...
Timeline of Events
1664

3.12.1664

New Jersey becomes a colony of

England

.

6.24.1664

The colony of New Jersey is founded.

1673

3.18.1673

1766

11.10.1766

The last colonial governor of New Jersey, William Franklin, signs the charter of Queen's College (later renamed

Rutgers University

).

1777

1783

11.30.1783

A 5.3 magnitude earthquake strikes New Jersey.

1787

1789

1815

2.6.1815

New Jersey grants the first

American

railroad charter to John Stevens.

1831

9.15.1831

The

locomotive

''John Bull'' operates for the first time in New Jersey on the Camden and Amboy Railroad.

1927

1931

10.1.1931

The George Washington Bridge linking New Jersey and

New York

opens.

1932

1934

9.8.1934

Off the New Jersey coast, a fire aboard the passenger liner SS Morro Castle kills 135 people.

1950

5.19.1950

A barge containing munitions destined for

Pakistan

explodes in the harbor at South Amboy, New Jersey, devastating the city.

1955

4.19.1955

The German automaker Volkswagen, after six years of selling cars in the United States, founds Volkswagen of America in Englewood Cliffs, New Jersey to standardize its dealer and service network.

1956

1998

2001

9.18.2001

First mailing of anthrax letters from

Trenton

, New Jersey in the 2001 anthrax attacks.

10.9.2001

Second mailing of anthrax letters from

Trenton

, New Jersey in the 2001 anthrax attack.

2004

8.12.2004

New Jersey Governor James McGreevey comes out publicly as gay and would resign from office the following November.