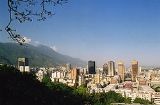 Caracas
Caracas , officially Santiago de León de Caracas, is the capital and largest city of Venezuela; natives or residents are known as Caraquenians in English . It is located in the northern part of the country, following the contours of the narrow Caracas Valley on the Venezuelan coastal mountain range...
Timeline of Events
1567

7.25.1567

Don Diego de Losada founds the city of Santiago de Leon de Caracas, modern-day Caracas, the capital city of

Venezuela

.

1810

4.20.1810

The Governor of Caracas declares independence from

Spain

.

1812

3.26.1812

1950

11.13.1950

General Carlos Delgado Chalbaud, President of Venezuela, is assassinated in Caracas.

1958

1967

7.29.1967

During the fourth day of celebrating its 400th anniversary, the city of Caracas,

Venezuela

is shaken by an

earthquake

, leaving approximately 500 dead.