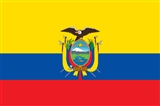 Ecuador
Ecuador , officially the Republic of Ecuador is a representative democratic republic in South America, bordered by Colombia on the north, Peru on the east and south, and by the Pacific Ocean to the west. It is one of only two countries in South America, along with Chile, that do not have a border with Brazil...
Timeline of Events
1534

1809

1821

1822

1830

1831

1832

2.12.1832

Ecuador annexes the Galápagos Islands.

1949

8.5.1949

In Ecuador an

earthquake

destroys 50 towns and kills more than 6,000.

1953

1956

1.8.1956

Operation Auca: Five U.S.

missionaries

are killed by the Huaorani of Ecuador shortly after making contact with them.

1983

7.11.1983

A

Boeing 727

crashes into hilly terrain after a tail strike in Cuenca, Ecuador, claiming 119 lives.

1991

1995

2000

1.21.2000

Ecuador: After the Ecuadorian Congress is seized by indigenous organizations, Col. Lucio Gutierrez, Carlos Solorzano and Antonio Vargas depose President Jamil Mahuad. Gutierrez is later replaced by Gen. Carlos Mendoza, who resigns and allows Vice-President Gustavo Noboa to succeed Mahuad.