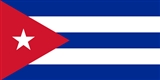 Cuba
The Republic of Cuba is an island nation in the Caribbean. The nation of Cuba consists of the main island of Cuba, the Isla de la Juventud, and several archipelagos. Havana is the largest city in Cuba and the country's capital. Santiago de Cuba is the second largest city...
Timeline of Events
1539

1.14.1539

1715

1829

6.5.1829

HMS Pickle captures the armed slave ship ''Voladora'' off the coast of Cuba.

1839

7.2.1839

Twenty miles off the coast of Cuba, 53 rebelling African slaves led by Joseph Cinqué take over the slave ship ''Amistad''.

1868

10.10.1868

Carlos Céspedes issues the Grito de Yara from his plantation, La Demajagua, proclaiming Cuba's independence

1869

4.10.1869

José Martí founds the Cuban Revolutionary Party.

1875

1898

1899

1.1.1899

1901

3.2.1901

The U.S. Congress passes the Platt amendment, limiting the autonomy of Cuba as a condition for the withdrawal of American troops.

1902

5.20.1902

Cuba gains independence from the United States. Tomás Estrada Palma becomes the country's first President.

1903

1909

1911

1939

1941

12.9.1941

World War II: The

Republic of China

, Cuba,

Guatemala

, the Provisional Government of the Republic of Korea, and the Philippine Commonwealth, declare war on

Germany

and Japan.

1949

1.19.1949

1952

3.10.1952

Fulgencio Batista

leads a successful coup in Cuba and appoints himself as the "provisional president".

1956

1957

3.13.1957

Cuban student revolutionaries storm the presidential palace in

Havana

in a failed attempt on the life of President

Fulgencio Batista

.

1959

1.7.1959

The United States recognizes the new Cuban government of

Fidel Castro

.

6.14.1959

A group of Dominican exiles with leftist tendencies that departed from Cuba land in the

Dominican Republic

with the intent of deposing Rafael Leónidas Trujillo Molina. Save for four of them, all are killed and/or executed by Trujillo's army.

1960

8.6.1960

Cuban Revolution

: in response to a United States embargo, Cuba nationalizes

American

and foreign-owned property in the nation.

9.18.1960

Fidel Castro

arrives in New York City as the head of the Cuban delegation to the United Nations.

1961

1.3.1961

The United States severs diplomatic relations with Cuba.

5.1.1961

The Prime Minister of Cuba,

Fidel Castro

, proclaims Cuba a socialist nation and abolishes elections.

12.2.1961

In a nationally broadcast speech, Cuban leader

Fidel Castro

declares that he is a Marxist-Leninist and that Cuba is going to adopt Communism.