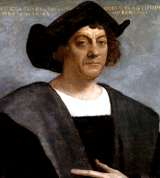 Christopher Columbus
Christopher Columbus was an explorer, colonizer, and navigator, born in the Republic of Genoa, in northwestern Italy. Under the auspices of the Catholic Monarchs of Spain, he completed four voyages across the Atlantic Ocean that led to general European awareness of the American continents in the Western Hemisphere...
Timeline of Events
1492

4.30.1492

Spain

gives Christopher Columbus his commission of exploration.

8.3.1492

Christopher Columbus sets sail from Palos de la Frontera,

Spain

.

9.6.1492

Christopher Columbus sails from La Gomera in the

Canary Islands

, his final port of call before crossing the

Atlantic

for the first time.

10.12.1492

Christopher Columbus's expedition makes landfall in the

Caribbean

, specifically in The Bahamas. The explorer believes he has reached

South Asia

1493

1.4.1493

Christopher Columbus leaves the

New World

, ending his first journey.

11.3.1493

Christopher Columbus first sights the island of

Dominica

in the Caribbean Sea.

11.18.1493

Christopher Columbus first sights the island now known as

Puerto Rico

.

11.19.1493

Christopher Columbus goes ashore on an island he first saw the day before. He names it San Juan Bautista (later renamed

Puerto Rico

).

1494

5.4.1494

Christopher Columbus lands in

Jamaica

.

1498

1502

5.11.1502

Christopher Columbus leaves for his fourth and final voyage to the West Indies.

7.30.1502

Christopher Columbus lands at Guanaja in the Bay Islands off the coast of

Honduras

during his fourth voyage.

9.18.1502

Christopher Columbus lands at

Costa Rica

on his fourth, and final, voyage.

1503

5.10.1503

Christopher Columbus visits the Cayman Islands and names them ''Las Tortugas'' after the numerous turtles there.

1504

2.29.1504

Christopher Columbus uses his knowledge of a lunar eclipse that night to convince Native Americans to provide him with supplies.