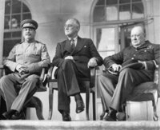 Allies of World War II
The Allies of World War II were the countries that opposed the Axis powers during the Second World War . Former Axis states contributing to the Allied victory are not considered Allied states...
Timeline of Events
1939

1940

1941

5.9.1941

World War II: The German submarine ''U-110'' is captured by the

Royal Navy

. On board is the latest Enigma cryptography machine which

Allied

cryptographers later use to break coded German messages.

1942

8.25.1942

World War II: second day of the Battle of the Eastern Solomons. A

Japanese

naval transport convoy headed towards

Guadalcanal

is turned-back by an

Allied

air attack, losing one destroyer and one transport sunk, and one light cruiser heavily damaged.

10.12.1942

World War II

:

Japan

ese ships retreat after their defeat in the Battle of Cape Esperance with the Japanese commander, Aritomo Gotō dying from wounds suffered in the battle and two Japanese

destroyer

s sunk by

Allied

air attack.

11.15.1942

World War II: The Battle of Guadalcanal ends in a decisive

Allied

victory.

1943

2.9.1943

World War II:

Allied

authorities declare Guadalcanal secure after

Imperial Japan

evacuates its remaining forces from the island, ending the Battle of Guadalcanal.

5.13.1943

World War II: German Afrika Korps and Italian troops in

North Africa

surrender to

Allied

forces.

1944

4.22.1944

World War II

: Operation Persecution is initiated –

Allied

forces land in the Hollandia (currently known as Jayapura) area of New Guinea.

5.11.1944

World War II: The

Allies

begin a major offensive against the

Axis Powers

on the Gustav Line.

6.6.1944

World War II: Battle of Normandy begins. D-Day, code named ''Operation Overlord'', commences with the landing of 155,000

Allied

troops on the beaches of

Normandy

in

France

. The allied soldiers quickly break through the Atlantic Wall and push inland in the largest amphibious military operation in history.

8.25.1944

World War II: Paris is liberated by the

Allies

.

1945

5.6.1945

World War II: Axis Sally delivers her last propaganda broadcast to

Allied

troops.