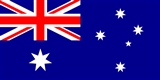 Australia
Australia , officially the Commonwealth of Australia, is a country in the Southern Hemisphere comprising the mainland of the Australian continent, the island of Tasmania, and numerous smaller islands in the Indian and Pacific Oceans. It is the world's sixth-largest country by total area...
Timeline of Events
1616

10.25.1616

Dutch

sea-captain Dirk Hartog makes second recorded landfall by a European on Australian soil, at the later-named Dirk Hartog Island off the

Western Australia

n coast.

1770

4.19.1770

Captain James Cook sights the eastern coast of Australia.

8.22.1770

James Cook

's expedition lands on the east coast of Australia.

1787

1788

1808

1.26.1808

Rum Rebellion, the only successful (albeit short-lived) armed takeover of the government in Australia.

1813

5.11.1813

In Australia, William Lawson, Gregory Blaxland and William Wentworth lead an expedition westwards from

Sydney

. Their route opens up inland Australia for continued expansion throughout the 19th century.

5.31.1813

In Australia, Lawson, Blaxland and Wentworth, reached Mount Blaxland, effectively marking the end of a route across the Blue Mountains.

1829

5.2.1829

After anchoring nearby, Captain Charles Fremantle of the HMS ''Challenger'', declares the

Swan River Colony

in Australia.

1834

3.18.1834

Six farm labourers from Tolpuddle, Dorset,

England

are sentenced to be transported to Australia for forming a

trade union

.

1835

8.30.1835

Melbourne, Australia is founded.

1838

6.10.1838

Myall Creek Massacre in Australia: 28 Aboriginal Australians are murdered.

1852

10.11.1852

The University of Sydney, Australia's oldest

university

, is inaugurated in

Sydney

.

1854

12.3.1854

Eureka Stockade: In what is claimed by many to be the birth of Australian democracy, more than 20 gold miners at Ballarat,

Victoria

, Australia are killed by state troopers in an uprising over mining licences.

1859

1861

5.13.1861

The Great Comet of 1861 is discovered by John Tebbutt of Windsor, New South Wales, Australia.

1865

7.31.1865

The first narrow gauge mainline railway in the world opens at Grandchester, Australia.

1869

11.11.1869

The Victorian Aboriginal Protection Act is enacted in Australia, giving the government control of indigenous people's wages, their terms of employment, where they could live, and of their children, effectively leading to the Stolen Generations.

1877

5.17.1877

The Victorian Football League of Australia is founded.

1887

1.21.1887

Convert 465 of rain falls in

Brisbane

, a record for any Australian capital city.

1892

6.11.1892

The Limelight Department, one of the world's first

film studios

, is officially established in

Melbourne

, Australia.

1899

1.22.1899

Leaders of six Australian colonies meet in

Melbourne

to discuss confederation.

1900

12.18.1900

The Upper Ferntree Gully to Gembrook Narrow-gauge (2 ft 6 in or 762 mm) Railway (now the Puffing Billy Railway) in

Victoria

, Australia is opened for traffic.

1901

5.9.1901

Australia opens its first parliament in

Melbourne

.

1903

1.9.1903

Hallam Tennyson, 2nd Baron Tennyson, son of the famous

poet

Alfred Tennyson, becomes the second

Governor-General

of Australia.

1909

6.15.1909

Representatives from

England

, Australia and

South Africa

meet at Lord's and form the Imperial Cricket Conference.

1913

1914

9.11.1914

Australia invades New Britain, defeating a

German

contingent at the Battle of Bita Paka.

1915

12.20.1915

World War I

: Last Australian troops evacuated from Gallipoli.

1918

12.17.1918

Culmination of the Darwin Rebellion as some 1000 demonstrators march on Government House in Darwin,

Northern Territory

, Australia.

1923

10.31.1923

The first of 160 consecutive days of 100 degrees at Marble Bar, Australia.

1930

5.24.1930

1931

1.7.1931

Guy Menzies flies the first solo non-stop trans-Tasman flight (from Australia to

New Zealand

) in 11 hours and 45 minutes, crash-landing on New Zealand's west coast.