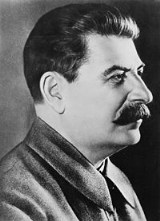 Joseph Stalin
Joseph Vissarionovich Stalin was the Premier of the Soviet Union from 6 May 1941 to 5 March 1953. He was among the Bolshevik revolutionaries who brought about the October Revolution and had held the position of first General Secretary of the Communist Party of the Soviet Union's Central Committee from 1922 until his death in 1953...
Timeline of Events
1917

11.9.1917

Joseph Stalin enters the provisional government of Bolshevik Russia.

1922

1927

11.12.1927

Leon Trotsky

is expelled from the Soviet Communist Party, leaving Joseph Stalin in undisputed control of the

Soviet Union

.

1928

1.1.1928

Boris Bazhanov defects through

Iran

. He is the only assistant of Joseph Stalin's secretariat to have defected from the Eastern Bloc.

1937

1.23.1937

In

Moscow

, 17 leading Communists go on trial accused of participating in a plot led by

Leon Trotsky

to overthrow Joseph Stalin's regime and assassinate its leaders.

6.11.1937

Great Purge: The

Soviet Union

under Joseph Stalin executes eight army leaders.

1941

7.20.1941

Soviet leader

Joseph Stalin consolidates the Commissariats of Home Affairs and National Security to form the NKVD and names Lavrenti Beria its chief.

11.6.1941

World War II: Soviet leader Joseph Stalin addresses the Soviet Union for only the second time during his three-decade rule. He states that even though 350,000 troops were killed in

German

attacks so far, the Germans had lost 4.5 million soldiers and that Soviet victory was near.

1942

7.28.1942

World War II

: Soviet leader Joseph Stalin issues Order No. 227 in response to alarming

German

advances into the

Soviet Union

. Under the order all those who retreat or otherwise leave their positions without orders to do so were to be immediately executed.

1943

5.15.1943

Joseph Stalin dissolves the Comintern (or ''Third International'').

1945

2.4.1945

World War II

: The Yalta Conference between the "Big Three" (

Churchill

, Roosevelt, and

Stalin

) opens at the Livadia Palace in the Crimea.

1953

3.1.1953

Joseph Stalin suffers a stroke and collapses. He dies four days later.

1956

2.25.1956

In his speech ''On the Personality Cult and its Consequences''

Nikita Khrushchev

, leader of the

Soviet Union

denounces the cult of personality of Joseph Stalin.

1961

10.30.1961

Because of "violations of Lenin's precepts", it is decreed that Joseph Stalin's body be removed from its place of honour inside Lenin's tomb and buried near the Kremlin wall with a plain granite marker instead.

10.31.1961

In the

Soviet Union

, Joseph Stalin's body is removed from Lenin's Tomb.

1967

3.6.1967

Joseph Stalin's daughter Svetlana Alliluyeva defects to the

United States

.