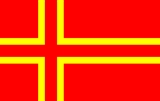 Normandy
Normandy is a geographical region corresponding to the former Duchy of Normandy. It is in France.The continental territory covers 30,627 km² and forms the preponderant part of Normandy and roughly 5% of the territory of France. It is divided for administrative purposes into two régions: Basse-Normandie and Haute-Normandie...
Timeline of Events
1259

12.4.1259

Kings

Louis IX of France

and

Henry III of England

agree to the Treaty of Paris, in which Henry renounces his claims to

French

-controlled territory on continental

Europe

(including Normandy) in exchange for Louis withdrawing his support for English rebels.

1419

1944

6.5.1944

World War II

: More than 1000

British

bombers drop 5,000 tons of bombs on

German

gun batteries on the Normandy coast in preparation for D-Day.

6.6.1944

World War II: Battle of Normandy begins. D-Day, code named ''Operation Overlord'', commences with the landing of 155,000

Allied

troops on the beaches of Normandy in

France

. The allied soldiers quickly break through the Atlantic Wall and push inland in the largest amphibious military operation in history.