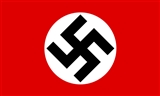 Nazi Germany
Nazi Germany , also known as the Third Reich , but officially called German Reich from 1933 to 1943 and Greater German Reich from 26 June 1943 onward, is the name commonly used to refer to the state of Germany from 1933 to 1945, when it was a totalitarian dictatorship ruled by...
Timeline of Events
1933

3.21.1933

Construction of Dachau, the first Nazi Germany concentration camp, is completed.

4.26.1933

The

Gestapo

, the official secret police force of Nazi Germany, is established.

10.14.1933

Nazi Germany withdraws from The League of Nations.

1934

1.1.1934

Nazi Germany passes the "Law for the Prevention of Genetically Diseased Offspring".

1935

9.15.1935

Nazi Germany adopts a new national flag with the swastika.

1937

1938

1939

3.14.1939

Slovakia declares independence under

German

pressure.

8.31.1939

Nazi Germany mounts a staged attack on the Gleiwitz radio station, creating an excuse to attack

Poland

the following day thus starting World War II in Europe.

9.2.1939

World War II

: following the start of the invasion of

Poland

the previous day, the Free City of Danzig (now

Gdańsk

,

Poland

) is annexed by Nazi Germany.

9.10.1939

World War II: Canada declares war on Nazi Germany, joining the Allies of World War II|Allies

1940

5.13.1940

5.15.1940

World War II

: After fierce fighting, the poorly trained and equipped

Dutch

troops surrender to

Germany

, marking the beginning of five years of occupation.

5.27.1940

World War II

: In the Le Paradis massacre, 99 soldiers from a Royal Norfolk Regiment unit are shot after surrendering to

German

troops. Two survive.

1941

4.6.1941

World War II

: Nazi Germany launches Operation 25 (the invasion of Kingdom of Yugoslavia) and Operation Marita (the invasion of

Greece

).

5.10.1941

World War II: Rudolf Hess parachutes into

Scotland

to try to negotiate a peace deal between the United Kingdom and Nazi Germany.

8.18.1941

Adolf Hitler

orders a temporary halt to

Nazi Germany's

systematic T4 euthanasia program of the mentally ill and the handicapped due to protests.