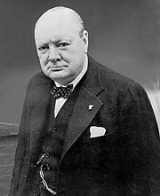 Winston Churchill
Sir Winston Leonard Spencer-Churchill, was a predominantly Conservative British politician and statesman known for his leadership of the United Kingdom during the Second World War. He is widely regarded as one of the greatest wartime leaders of the century and served as Prime Minister twice...
Timeline of Events
1874

11.30.1874

Winston Churchill is born at Blenheim Palace in Oxfordshire, Great Britain.

1901

1906

1.12.1906

Sir Henry Campbell-Bannerman's cabinet (which included amongst its members H. H. Asquith, David Lloyd George, and Winston Churchill) embarks on sweeping social reforms after a Liberal landslide in the British general election.

1911

1911

Churchill is elected First Lord of the Admiralty for the first time.

1940

5.13.1940

World War II

:

Germany

's conquest of France begins as the German army crosses the Meuse. Winston Churchill makes his "blood, toil, tears, and sweat" speech to the House of Commons.

6.18.1940

"Finest Hour" speech by Winston Churchill.

1943

1.14.1943

World War II:

Franklin D. Roosevelt

and Winston Churchill begin the Casablanca Conference to discuss strategy and study the next phase of the war.

6.1.1943

British Overseas Airways Corporation Flight 777 is shot down over the Bay of Biscay by German Junkers Ju 88s, killing actor Leslie Howard and leading to speculation the downing was an attempt to kill

British Prime Minister

Winston Churchill.

1944

1945

2.4.1945

World War II

: The Yalta Conference between the "Big Three" (

Churchill

, Roosevelt, and

Stalin

) opens at the Livadia Palace in the Crimea.

7.26.1945

The Labour Party wins the United Kingdom general election of July 5 by a landslide, removing Winston Churchill from power.

1946

3.5.1946

Winston Churchill uses the phrase "

Iron Curtain

" in his speech at Westminster College, Missouri.

9.19.1946

The

Council of Europe

is founded following a speech by Winston Churchill at the University of Zurich.

1952

2.21.1952

The

British government

, under Winston Churchill, abolishes identity cards in the

UK

to "set the people free".

1953

1955

1965

2.1.1965

The Hamilton River in

Labrador

, Canada is renamed the Churchill River in honour of Winston Churchill.