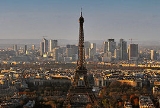 Paris
Paris is the capital and largest city in France, situated on the river Seine, in northern France, at the heart of the Île-de-France region...
Timeline of Events
845

3.28.845

Paris is sacked by

Viking

raiders, probably under Ragnar Lodbrok, who collects a huge ransom in exchange for leaving.

1295

1390

10.29.1390

First trial for

witchcraft

in Paris leading to the death of three people.

1418

6.12.1418

An insurrection delivers Paris to the Burgundians.

1431

1572

1578

5.31.1578

King Henri III lays the first stone of the Pont Neuf (''New Bridge''), the oldest bridge of Paris.

1588

1765

3.9.1765

After a campaign by the writer Voltaire, judges in Paris posthumously exonerate Jean Calas of murdering his son. Calas had been tortured and executed in 1762 on the charge, though his son may have actually committed suicide.

1778

1782

1783

11.21.1783

In Paris, Jean-François Pilâtre de Rozier and François Laurent, Marquis d'Arlandes, make the first untethered

hot air balloon

flight.

1789

7.14.1789

7.15.1789

Gilbert du Motier, marquis de La Fayette, is named by acclamation colonel-general of the new National Guard of Paris.

10.5.1789

French Revolution

: Women of Paris march to

Versailles

in the March on Versailles to confront Louis XVI about his refusal to promulgate the decrees on the abolition of

feudalism

, demand bread, and have the King and his court moved to Paris.

1790

7.14.1790

French Revolution: citizens of Paris celebrate the constitutional monarchy and national reconciliation in the Fête de la Fédération.

1791

3.2.1791

Long-distance communication speeds up with the unveiling of a semaphore machine in Paris.

7.17.1791

Members of the French National Guard under the command of General Lafayette open fire on a crowd of radical Jacobins at the Champ de Mars, Paris, during the

French Revolution

, killing as many as 50 people.

1792

7.25.1792

The Brunswick Manifesto is issued to the population of Paris promising vengeance if the

French

Royal Family is harmed.

1793

6.10.1793

The Jardin des Plantes museum opens in Paris. A year later, it becomes the first public zoo.

10.15.1793

Queen Marie-Antoinette of

France

is tried and condemned in a swift, pre-determined trial in the Palais de Justice, Paris, and condemned to death the following day.

1794

5.8.1794

1797

10.22.1797

One thousand meters (3,200 feet) above Paris, André-Jacques Garnerin makes the first recorded

parachute

jump.

1804

12.2.1804

At Notre Dame Cathedral in Paris, Napoleon Bonaparte crowns himself

Emperor of the French

, the first French Emperor in a thousand years.

1812

10.23.1812

Claude François de Malet, a French general, begins a conspiracy to overthrow

Napoleon Bonaparte

, claiming that the Emperor died in

Russia

and that he is now the commandant of Paris.

1814

1815

1836

7.29.1836

Inauguration of the Arc de Triomphe in Paris.

1840

2.11.1840

Gaetano Donizetti's opera ''La Fille du Régiment'' receives its first performance in Paris.

1848

6.22.1848

Beginning of the June Days Uprising in Paris.

1852

9.24.1852

The first

airship

powered by (a steam) engine, created by Henri Giffard, travels convert 17 from Paris to Trappes.

1860

1.2.1860

The discovery of the planet Vulcan is announced at a meeting of the Académie des Sciences in Paris

1865

5.17.1865

The International Telegraph Union (later the International Telecommunication Union) is established in Paris.

1867

3.11.1867

The first performance of ''Don Carlos'' by

Giuseppe Verdi

takes place in Paris.