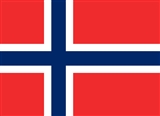 Norway
Norway , officially the Kingdom of Norway, is a Nordic unitary constitutional monarchy whose territory comprises the western portion of the Scandinavian Peninsula, Jan Mayen, and the Arctic archipelago of Svalbard and Bouvet Island. Norway has a total area of and a population of about 4.9 million...
Timeline of Events
1179

6.19.1179

The

Norwegian

Battle of Kalvskinnet outside Nidaros. Earl Erling Skakke is killed, and the battle changes the tide of the civil wars.

1314

8.31.1314

King Håkon V Magnusson moves the capital of Norway from Bergen to

Oslo

.

1326

6.3.1326

Treaty of Novgorod delineates borders between

Russia

and Norway in Finnmark.

1472

2.20.1472

Orkney and Shetland are pawned by Norway to

Scotland

in lieu of a dowry for Margaret of Denmark.

1520

1523

1.20.1523

Christian II is forced to abdicate as King of

Denmark

and Norway.

1718

11.30.1718

Swedish king Charles XII dies during a siege of the fortress Fredriksten in Norway.

1767

7.3.1767

Norway's

oldest newspaper still in print, Adresseavisen, is founded and the first edition is published.

1814

1.14.1814

Treaty of Kiel: Frederick VI of Denmark cedes Norway to

Sweden

in return for Pomerania.

2.11.1814

Norway's independence is proclaimed, marking the ultimate end of the Kalmar Union.

1818

2.5.1818

Jean-Baptiste Bernadotte ascends to the thrones of

Sweden

and Norway.

9.7.1818

Carl III of Sweden-Norway is crowned king of Norway, in Trondheim.

1822

5.26.1822

116 people die in the Grue Church fire, the biggest fire disaster in Norway's history.

1860

1894

4.21.1894

Norway formally adopts the Krag-Jørgensen rifle as the main arm of its armed forces, a weapon that would remain in service for almost 50 years.

1903

1904

1.23.1904

Ålesund Fire: the

Norwegian

coastal town Ålesund is devastated by fire, leaving 10,000 people homeless and one person dead.

Kaiser Wilhelm II

funds the rebuilding of the town in Jugendstil style.

1905

6.7.1905

Norway's parliament dissolves its

union with Sweden

, a vote that is confirmed by a national plebiscite on August 13 of that year.

10.26.1905

Norway becomes independent from

Sweden

.

1907

6.14.1907

Norway adopts female suffrage.

1909

1.27.1909

The Young Left is founded in Norway.

1920

2.9.1920

Under the terms of the Spitsbergen Treaty, international diplomacy recognizes

Norwegian

sovereignty over Arctic archipelago Svalbard, and designates it as demilitarized.

1933

5.17.1933

Vidkun Quisling and Johan Bernhard Hjort form Nasjonal Samling — the

national-socialist

party of Norway.

1938

1.14.1938

1939

9.10.1939

World War II

: The submarine HMS Oxley is mistakenly sunk by the submarine HMS Triton near Norway and becomes the

Royal Navy

's first loss.

1940

4.14.1940

World War II

: Royal Marines land in Namsos, Norway in preparation for a larger force to arrive two days later.

6.10.1940

World War II: Norway surrenders to

German

forces.

1943

12.26.1943

World War II

: German warship ''Scharnhorst'' is sunk off of

Norway's

North Cape after a battle against major Royal Navy forces.

1944

11.12.1944

World War II: The

Royal Air Force

launches 29 Avro Lancaster bombers in one of the most successful precision bombing attacks of war and sinks the

German battleship

''Tirpitz'', with 12,000 lb Tallboy bombs off Tromsø, Norway.

1946

2.1.1946

Trygve Lie of Norway is picked to be the first United Nations Secretary General.