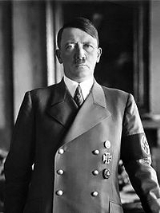 Adolf Hitler
Adolf Hitler was an Austrian-born German politician and the leader of the National Socialist German Workers Party , commonly referred to as the Nazi Party). He was Chancellor of Germany from 1933 to 1945, and head of state from 1934 to 1945...
Timeline of Events
1919

9.12.1919

Adolf Hitler joins the German Workers Party.

1921

7.29.1921

Adolf Hitler becomes leader of the National Socialist German Workers Party.

11.4.1921

The Sturmabteilung or SA is formed by Adolf Hitler

1923

1924

4.1.1924

Adolf Hitler is sentenced to five years in

jail

for his participation in the "

Beer Hall Putsch

". However, he spends only nine months in jail, during which he writes ''Mein Kampf''.

1925

7.18.1925

Adolf Hitler publishes his personal manifesto ''Mein Kampf''.

1932

2.25.1932

Adolf Hitler obtains German citizenship by naturalization, which allows him to run in the 1932 election for Reichspräsident.

1933

1.30.1933

Adolf Hitler is sworn in as Chancellor of Germany.

1934

6.30.1934

The Night of the Long Knives, Adolf Hitler's violent purge of his political rivals in

Germany

, takes place.

1935

1936

3.29.1936

In Germany, Adolf Hitler receives 99% of the votes in a

referendum

to ratify Germany's illegal reoccupation of the Rhineland, receiving 44.5 million votes out of 45.5 million registered voters.

10.18.1936

Adolf Hitler announces the Four Year Economic Plan to the German people. The plan details the rebuilding of the German military from 1936 to 1940.

1937

11.5.1937

Adolf Hitler holds a secret meeting and states his plans for acquiring "living space" for the German people.

1938

12.16.1938

Adolf Hitler institutes the Cross of Honor of the German Mother

1939

11.8.1939

In

Munich

, Adolf Hitler narrowly escapes the assassination attempt of Georg Elser while celebrating the 16th anniversary of the

Beer Hall Putsch

.

1940

6.23.1940

World War II

:

German

leader Adolf Hitler surveys newly defeated Paris in now occupied France.

10.4.1940

1941

1.23.1941

Charles Lindbergh

testifies before the U.S. Congress and recommends that the United States negotiate a neutrality pact with Adolf Hitler.

7.31.1941

Holocaust: under instructions from Adolf Hitler,

Nazi

official

Hermann Göring

, orders

SS

General

Reinhard Heydrich

to "submit to me as soon as possible a general plan of the administrative material and financial measures necessary for carrying out the desired final solution of the Jewish question."

8.18.1941

Adolf Hitler orders a temporary halt to

Nazi Germany's

systematic T4 euthanasia program of the mentally ill and the handicapped due to protests.

12.12.1941

Adolf Hitler announces extermination of the Jews at a meeting in the Reich Chancellery

1942

12.22.1942

World War II: Adolf Hitler signs the order to develop the

V-2 rocket

as a weapon.

1943

9.18.1943

World War II: Adolf Hitler orders the deportation of

Danish

Jews.

1944

7.20.1944

World War II: Adolf Hitler survives an assassination attempt (known as the 20 July plot) led by German Army Colonel Claus von Stauffenberg.

7.21.1944

World War II: Claus Schenk Graf von Stauffenberg and fellow conspirators are executed in Berlin, Germany for the July 20 plot to assassinate Adolf Hitler.

10.18.1944

Adolf Hitler orders the establishment of a German national

militia

.

10.18.1944

Adolf Hitler orders the public funeral procession of Nazi field Marshall

Erwin Rommel

, commander of the Deutsches Afrika Korps

1945

1.16.1945

Adolf Hitler moves into his underground bunker, the so-called Führerbunker.

3.19.1945

World War II: Adolf Hitler issues his "Nero Decree" ordering all industries, military installations, shops, transportation facilities and communications facilities in

Germany

to be destroyed.