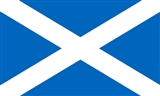 Scotland
Scotland is a country that is part of the United Kingdom. Occupying the northern third of the island of Great Britain, it shares a border with England to the south and is bounded by the North Sea to the east, the Atlantic Ocean to the north and west, and the North Channel and Irish Sea to the southwest...
Timeline of Events
565

8.22.565

St. Columba reports seeing a monster in Loch Ness, Scotland.

1054

7.27.1054

Siward, Earl of Northumbria invades Scotland to support Malcolm Canmore against

Macbeth of Scotland

, who usurped the Scottish throne from Malcolm's father, King Duncan. Macbeth is defeated at Dunsinane.

1153

5.27.1153

Malcolm IV becomes King of Scotland.

1291

1292

11.17.1292

(

O.S.

) John Balliol becomes King of Scotland.

1295

1296

1305

1306

6.19.1306

The Earl of Pembroke's army defeats Bruce's

Scottish

army at the Battle of Methven.

1318

1320

4.6.1320

The

Scots

reaffirm their independence by signing the Declaration of Arbroath.

1322

10.14.1322

Robert the Bruce of Scotland defeats King Edward II of

England

at Byland, forcing Edward to accept Scotland's independence.

1411

7.24.1411

Battle of Harlaw, one of the bloodiest battles in Scotland, takes place.

1472

2.20.1472

Orkney and Shetland are pawned by

Norway

to Scotland in lieu of a dowry for Margaret of Denmark.

1503

1513

1543

1547

1559

5.2.1559

John Knox returns from exile to Scotland to become the leader of the beginning Scottish Reformation.

1560

7.6.1560

The Treaty of Edinburgh is signed by Scotland and England.

1561

8.19.1561

An 18-year-old Mary, Queen of Scots, returns to Scotland after spending 13 years in

France

.

1565

7.29.1565

The widowed Mary, Queen of Scots, marries Henry Stuart, Lord Darnley, Duke of Albany, at Holyrood Palace in

Edinburgh

, Scotland.

1566

3.9.1566

David Rizzio, private secretary to Mary, Queen of Scots, is murdered in the Palace of Holyroodhouse,

Edinburgh

, Scotland.

1567

2.10.1567

An explosion destroys the Kirk o' Field house in

Edinburgh

, Scotland. The second husband of Mary, Queen of Scots, Lord Darnley is found strangled, in what many believe to be an

assassination

.

1568

5.13.1568

Battle of Langside: the forces of Mary, Queen of Scots, are defeated by a confederacy of

Scottish

Protestants under James Stewart, Earl of Moray, her half-brother.

1570

1590

5.17.1590

Anne of Denmark is crowned Queen of Scotland.

1600

1.1.1600

Scotland begins its numbered year on January 1 instead of March 25.

1625

1640

10.26.1640

1650

4.27.1650

The Battle of Carbisdale: A

Royalist

army invades mainland Scotland from Orkney Island but is defeated by a

Covenanter

army.

1651

1661

1692

2.13.1692

Massacre of Glencoe: About 78 Macdonalds at Glen Coe, Scotland are killed early in the morning for not promptly pledging allegiance to the new king,

William of Orange

.

1701

9.16.1701

James Francis Edward Stuart, sometimes called the "Old Pretender", becomes the

Jacobite claimant

to the thrones of

England

and Scotland.

1786

6.29.1786

Alexander Macdonell and over five hundred Roman Catholic highlanders leave Scotland to settle in Glengarry County,

Ontario

.