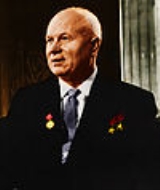 Nikita Khrushchev
Nikita Sergeyevich Khrushchev led the Soviet Union during part of the Cold War. He served as First Secretary of the Communist Party of the Soviet Union from 1953 to 1964, and as Chairman of the Council of Ministers, or Premier, from 1958 to 1964...
Timeline of Events
1953

6.26.1953

Lavrentiy Beria,head of MVD, was arrested by Nikita Khrushchev and other members of the Politburo.

1956

2.25.1956

In his speech ''On the Personality Cult and its Consequences'' Nikita Khrushchev, leader of the

Soviet Union

denounces the cult of personality of

Joseph Stalin

.

1958

1959

9.19.1959

Nikita Khrushchev is barred from visiting Disneyland.

9.23.1959

Iowa farmer and corn breeder Roswell Garst hosts Soviet premier Nikita Khrushchev.

1960

1962

1964

10.14.1964

Leonid Brezhnev becomes the

General Secretary

of the

Communist Party of the Soviet Union

, and thereby, along with his allies - such as Alexei Kosygin - the leader of the Union of Soviet Socialist Republics (USSR), ousting the former monolithic leader Nikita Khrushchev, and sending him into retirement as a nonperson in the USSR.