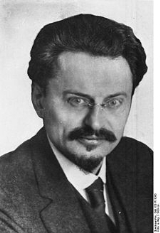 Leon Trotsky
Leon Trotsky , born Lev Davidovich Bronshtein, was a Russian Marxist revolutionary and theorist, Soviet politician, and the founder and first leader of the Red Army....
Timeline of Events
1908

1917

1927

11.12.1927

1929

1937

1.23.1937

In

Moscow

, 17 leading Communists go on trial accused of participating in a plot led by Leon Trotsky to overthrow

Joseph Stalin

's regime and assassinate its leaders.

1940

8.20.1940

In

Mexico City

exiled

Russia

n revolutionary Leon Trotsky is fatally wounded with an ice axe by Ramon Mercader. He dies the next day.