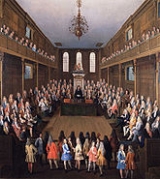 British House of Commons
The House of Commons is the lower house of the Parliament of the United Kingdom, which also comprises the Sovereign and the House of Lords . Both Commons and Lords meet in the Palace of Westminster. The Commons is a democratically elected body, consisting of 650 members , who are known as Members of Parliament...
Timeline of Events
1791

1812

1892

1901

1914

1941

1947

7.4.1947

The "Indian Independence Bill" is presented before British House of Commons, suggesting bifurcation of

British India

into two sovereign countries –

India

and

Pakistan

.

1979

3.28.1979

The British House of Commons passes a vote of no confidence against

James Callaghan

's government, precipitating a general election.

1992

4.27.1992

Betty Boothroyd becomes the first woman to be elected Speaker of the

British House of Commons

in its 700-year history.

2007

3.7.2007

British House of Commons votes to make the upper chamber, the

House of Lords

, 100% elected.