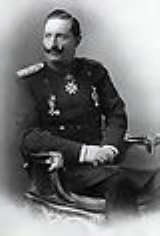 William II, German Emperor
Wilhelm II was the last German Emperor and King of Prussia, ruling the German Empire and the Kingdom of Prussia from 15 June 1888 to 9 November 1918. He was a grandson of the British Queen Victoria and related to many monarchs and princes of Europe...
Timeline of Events
1888

6.15.1888

1904

1.23.1904

Ålesund Fire: the

Norwegian

coastal town Ålesund is devastated by fire, leaving 10,000 people homeless and one person dead.

Kaiser Wilhelm II

funds the rebuilding of the town in Jugendstil style.

1918

10.26.1918

Erich Ludendorff, quartermaster-general of the Imperial German Army, is dismissed by

Kaiser Wilhelm II

of

Germany

for refusing to cooperate in peace negotiations.