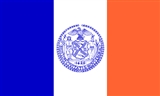 New York City
New York is the most populous city in the United States and the center of the New York Metropolitan Area, one of the most populous metropolitan areas in the world. New York exerts a significant impact upon global commerce, finance, media, art, fashion, research, technology, education, and entertainment...
Timeline of Events
1524

4.17.1524

Giovanni da Verrazzano reaches

New York

harbor.

1647

5.11.1647

Peter Stuyvesant arrives in

New Amsterdam

to replace Willem Kieft as Director-General of

New Netherland

, the Dutch colonial settlement in present-day New York City.

1653

1657

1665

6.12.1665

England installs a municipal government in New York City (the former

Dutch

settlement of

New Amsterdam

).

1730

4.8.1730

Shearith Israel, the first synagogue in New York City, is dedicated.

1756

3.17.1756

Saint Patrick's Day is celebrated in New York City for the first time (at the Crown and Thistle Tavern).

1783

12.4.1783

At Fraunces Tavern in New York City, US General

George Washington

formally bids his officers farewell.

1788

9.13.1788

The

Philadelphia Convention

sets the date for the first presidential election in the United States, and New York City becomes the country's temporary capital.

1789

1790

1793

12.9.1793

New York City's first daily

newspaper

, the ''American Minerva'', is established by Noah Webster.

1807

1816

5.6.1816

The American Bible Society is founded in New York City.

1819

7.3.1819

The Bank of Savings in New York City, the first savings bank in the

United States

, opens.

1825

6.11.1825

The first

cornerstone

is laid for Fort Hamilton in New York City.

1831

12.31.1831

Gramercy Park is deeded to New York City.

1837

5.10.1837

Panic of 1837: New York City banks fail, and unemployment reaches record levels.

9.18.1837

Tiffany and Co. (first named Tiffany & Young) is founded by Charles Lewis Tiffany and Teddy Young in New York City. The store is called a "stationery and fancy goods emporium".

1843

2.6.1843

The first minstrel show in the

United States

, The Virginia Minstrels, opens (Bowery Amphitheatre in New York City).

10.13.1843

In New York City, Henry Jones and 11 others found B'nai B'rith (the oldest Jewish service organization in the world).

1849

1857

3.23.1857

Elisha Otis's first elevator is installed at 488 Broadway New York City.

1859

4.4.1859

Bryant's Minstrels debut "Dixie" in New York City in the finale of a blackface minstrel show.

1860

1863

7.13.1863

New York Draft Riots: in New York City, opponents of

conscription

begin three days of rioting which will be later regarded as the worst in United States history.

1864

11.25.1864

American Civil War: A group of Confederate operatives calling themselves the Confederate Army of Manhattan starts fires in more than 20 locations in an unsuccessful attempt to burn down New York City.

1865

1866

4.10.1866

The American Society for the Prevention of Cruelty to Animals (ASPCA) is founded in New York City by Henry Bergh.

1868

2.16.1868

In New York City the Jolly Corks organization is renamed the Benevolent and Protective Order of Elks.

1870

2.10.1870

The YWCA is founded in New York City.

2.26.1870

In New York City, a demonstration of the first pneumatic subway opens to the public.

1872

2.20.1872

In New York City the Metropolitan Museum of Art opens.

9.26.1872

The first Shriners Temple (called Mecca) is established in New York City.

1875

1876

6.4.1876

An express

train

called the ''Transcontinental Express'' arrives in

San Francisco, California

, via the First Transcontinental Railroad only 83 hours and 39 minutes after leaving New York City.