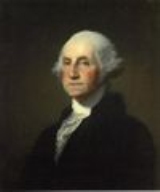 George Washington
George Washington was the dominant military and political leader of the new United States of America from 1775 to 1799. He led the American victory over Great Britain in the American Revolutionary War as commander-in-chief of the Continental Army from 1775 to 1783, and presided over the writing of the Constitution in 1787...
Timeline of Events
1754

5.28.1754

7.4.1754

French and Indian War

: George Washington surrenders Fort Necessity to French Capt. Louis Coulon de Villiers.

1759

1.5.1759

George Washington marries Martha Dandridge Custis.

1775

1776

6.28.1776

American Revolutionary War: Thomas Hickey,

Continental Army

private and bodyguard to General George Washington, is hanged for

mutiny

and sedition.

1777

1.3.1777

American general George Washington defeats British general Charles Cornwallis at the Battle of Princeton.

10.4.1777

Battle of Germantown: Troops under George Washington are repelled by

British

troops under Sir William Howe.

1781

10.16.1781

10.19.1781

At

Yorktown, Virginia

, representatives of

British

commander Lord Cornwallis handed over Cornwallis' sword and formally surrendered to George Washington and the comte de Rochambeau.

1782

8.7.1782

George Washington orders the creation of the Badge of Military Merit to honor soldiers wounded in battle. It is later renamed to the more poetic Purple Heart.

1783

3.15.1783

In an emotional speech in Newburgh, New York, George Washington asks his officers not to support the Newburgh Conspiracy. The plea is successful and the threatened

coup d'état

never takes place.

11.2.1783

In Rocky Hill, New Jersey, US General George Washington gives his "Farewell Address to the Army".

12.4.1783

At Fraunces Tavern in

New York City

, US General George Washington formally bids his officers farewell.

1787

1789

1790

1791

9.9.1791

Washington, D.C.

, the capital of the United States, is named after President George Washington.

1792

1793

9.18.1793

1794

8.7.1794

U.S. President George Washington invokes the Militia Law of 1792 to suppress the Whiskey Rebellion in western Pennsylvania.

1796

9.19.1796

George Washington's farewell address is printed across America as an open letter to the public.

1797

1976

10.11.1976

George Washington's appointment, posthumously, to the grade of General of the Armies of the United States by congressional joint resolution Public Law 94-479 is approved by President Gerald R. Ford.