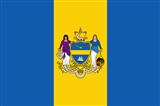 Philadelphia, Pennsylvania
Philadelphia is the largest city in the Commonwealth of Pennsylvania and the county seat of Philadelphia County, with which it is coterminous. The city is located in the Northeastern United States along the Delaware and Schuylkill rivers. It is the fifth-most-populous city in the United States, with a population of 1,526,006 as of the 2010 U.S. Census...
Timeline of Events
1748

8.26.1748

The first Lutheran denomination in North America, the Pennsylvania Ministerium, is founded in Philadelphia, Pennsylvania.

1759

1.11.1759

In Philadelphia, Pennsylvania, the first American life insurance company is incorporated.

1774

1775

1776

1777

1778

1787

1790

12.6.1790

The U.S. Congress moves from

New York City

to Philadelphia, Pennsylvania.

1834

10.14.1834

In

Philadelphia

, members of the American Whig Party and

American Democrats

carry out a brick, stone, and firearm, battle for the control of an election in Moyamensing Township, resulting in one death, several injuries, and the burning down of a block of the town's buildings.

1842

8.1.1842

Lombard Street Riot erupts in Philadelphia, Pennsylvania, USA.

1847

5.7.1847

The American Medical Association is founded in Philadelphia, Pennsylvania.

1856

2.18.1856

The ''Know-Nothings'' convene in Philadelphia, Pennsylvania to nominate their first

Presidential

candidate, former President

Millard Fillmore

.

1900

1.29.1900

The

American League

is organized in Philadelphia, Pennsylvania with 8 founding teams.

1950

1959

1960

7.4.1960

Due to the post-Independence Day admission of

Hawaii

as the 50th

U.S. state

on August 21, 1959, the 50-star

flag of the United States

debuts in Philadelphia, Pennsylvania almost ten and a half months later (see Flag Act).

1985

5.13.1985

Police storm MOVE headquarters in

Philadelphia

to end a stand-off, killing 11 MOVE members and destroying the homes of 250 city residents.

1996

6.12.1996

In Philadelphia, Pennsylvania, a panel of federal judges blocks a law against indecency on the internet.