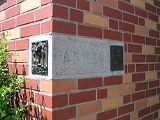 Cornerstone
The cornerstone concept is derived from the first stone set in the construction of a masonry foundation, important since all other stones will be set in reference to this stone, thus determining the position of the entire structure.Over time a cornerstone became a ceremonial masonry stone, or replica, set in a prominent location on the outside of a...
Timeline of Events
1248

8.15.1248

The

foundation stone

of Cologne Cathedral, built to house the relics of the Three Wise Men, is laid. (Construction is eventually completed in 1880.)

1357

1506

1825

6.11.1825

The first cornerstone is laid for Fort Hamilton in

New York City

.

1833

7.23.1833

Cornerstones are laid for the construction of the Kirtland Temple in Kirtland, Ohio.

1860

10.10.1860

The original cornerstone of the University of the South is laid in Sewanee,

Tennessee

.