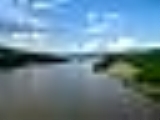 Hudson River
The Hudson is a river that flows from north to south through eastern New York. The highest official source is at Lake Tear of the Clouds, on the slopes of Mount Marcy in the Adirondack Mountains. The river itself officially begins in Henderson Lake in Newcomb, New York...
Timeline of Events
1609

9.12.1609

Henry Hudson

begins his exploration of the Hudson River while aboard the ''Halve Maen''.

9.13.1609

Henry Hudson

reaches the river that would later be named after him – the Hudson River.

1807

1906

1.8.1906

A landslide in Haverstraw, New York, caused by the excavation of clay along the Hudson River, kills 20 people.

1927

2009

1.15.2009

US Airways Flight 1549 makes an emergency landing in the Hudson River shortly after takeoff from LaGuardia Airport in

New York City

. All passengers and crew members survive.