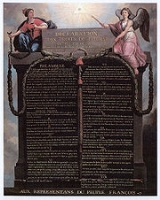 Freedom of religion
Freedom of religion is a principle that supports the freedom of an individual or community, in public or private, to manifest religion or belief in teaching, practice, worship, and observance; the concept is generally recognized also to include the freedom to change religion or not to follow any religion...
Timeline of Events
1571

1.11.1571

Austria

n nobility is granted freedom of religion.

1573

1.28.1573

Articles of the Warsaw Confederation are signed, sanctioning freedom of religion in

Poland

.

1598

1609

7.6.1609

Bohemia

is granted freedom of religion.

1657

1781

1829

4.13.1829

The British Parliament grants freedom of religion to Roman Catholics.