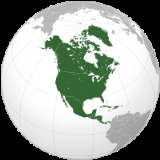 North America
North America is a continent wholly within the Northern Hemisphere and almost wholly within the Western Hemisphere. It is also considered a northern subcontinent of the Americas...
Timeline of Events
1497

6.24.1497

John Cabot

lands in North America at

Newfoundland

leading the first European exploration of the region since the Vikings.

1527

1535

5.19.1535

French

explorer

Jacques Cartier

sets sail on his second voyage to North America with three ships, 110 men, and Chief Donnacona's two sons (whom Cartier had kidnapped during his first voyage).

1583

8.5.1583

Sir Humphrey Gilbert establishes the first English

colony

in North America, at what is now St John's, Newfoundland.

1620

8.5.1620

The ''

Mayflower

'' departs from Southampton, England on its first attempt to reach North America.

1652

5.18.1652

Rhode Island

passes the first law in North America making slavery illegal.

1670

1679

8.7.1679

The brigantine ''Le Griffon'', commissioned by René Robert Cavelier, Sieur de La Salle, is towed to the south-eastern end of the

Niagara River

, to become the first ship to sail the upper

Great Lakes

of North America.

1683

1700

1738

7.20.1738

North America: French explorer Pierre Gaultier de Varennes et de la Vérendrye reaches the western shore of

Lake Michigan

.

1739

1751

5.1.1751

The first cricket match is played in

America

.

1763

10.7.1763

George III

of

Great Britain

issues British Royal Proclamation of 1763, closing aboriginal lands in North America north and west of Alleghenies to white settlements.

1765

1773

1775

4.14.1775

The first

abolition

society in North America is established. The Society for the Relief of Free Negroes Unlawfully Held in Bondage is organized in Philadelphia,

Pennsylvania

by

Benjamin Franklin

and Benjamin Rush.

1851

12.9.1851

The first

YMCA

in North America is established in Montreal, Quebec.

1879

2.12.1879

The first artificial ice rink in North America opens at Gilmore's Park in

New York City

.

1897

9.1.1897

1920

1925

2.2.1925

The Charlevoix-Kamouraska earthquake strikes northeastern North America.

1944

6.15.1944

In the Saskatchewan general election, the CCF, led by Tommy Douglas, is elected and forms the first

socialist

government in North America.

1947

2.3.1947

The lowest temperature in North America is recorded in Snag, Yukon.

1950

1952

5.28.1952

Memphis Kiddie Park opens in Brooklyn, Ohio. The park's Little Dipper roller coaster would become the oldest operating steel roller coaster in North America.

1959

4.25.1959

The St. Lawrence Seaway, linking the North American Great Lakes and the

Atlantic Ocean

, officially opens to shipping.

1979

11.10.1979

A 106-car Canadian Pacific freight train carrying explosive and poisonous chemicals from

Windsor, Ontario

, Canada derails in Mississauga, Ontario, Canada just west of Toronto, Ontario, Canada, causing a massive explosion and the largest peacetime evacuation in Canadian history and one of the largest in

North American

history.