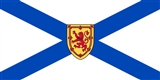 Nova Scotia
Nova Scotia is one of Canada's three Maritime provinces and is the most populous province in Atlantic Canada. The name of the province is Latin for "New Scotland," but "Nova Scotia" is the recognized, English-language name of the province. The provincial capital is Halifax. Nova Scotia is the second-smallest province in Canada with an area of...
Timeline of Events
1713

6.23.1713

The French residents of

Acadia

are given one year to declare allegiance to Britain or leave Nova Scotia, Canada.

1745

1749

6.21.1749

1750

7.11.1750

Halifax

, Nova Scotia is almost completely destroyed by fire.

1755

7.25.1755

British

governor Charles Lawrence and the Nova Scotia Council order the

deportation

of the Acadians. Thousands of Acadians are sent to the British Colonies in America, France and England. Some later move to

Louisiana

, while others resettle in

New Brunswick

.

8.11.1755

Charles Lawrence gives expulsion orders to remove the Acadians from Nova Scotia beginning the

Great Upheaval

.

1758

7.25.1758

Seven Years' War

: the island battery at Fortress Louisbourg in Nova Scotia is silenced and all

French

warships are destroyed or taken.

1760

1782

7.1.1782

American

privateers attack Lunenburg, Nova Scotia.

1812

1840

1873

4.1.1873

The

British

steamer RMS Atlantic sinks off Nova Scotia, killing 547.

1898

6.27.1898

The first solo

circumnavigation

of the globe is completed by Joshua Slocum from Briar Island, Nova Scotia.

1917

12.6.1917

Halifax Explosion: In Canada, a munitions explosion kills more than 1,900 people and destroys part of the

City of Halifax

, Nova Scotia.

1950

1996

4.1.1996

The Halifax Regional Municipality in Nova Scotia is created.