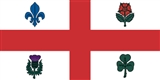 Montreal
Montreal is a city in Canada. It is the largest city in the province of Quebec, the second-largest city in Canada and the seventh largest in North America...
Timeline of Events
1642

1734

6.21.1734

In Montreal in

New France

, a slave known by the French name of Marie-Joseph Angélique is put to death, having been convicted of the

arson

that destroyed much of the city.

1763

5.18.1763

Fire destroys a large part of Montreal,

Quebec

.

1817

11.3.1817

The Bank of Montreal, Canada's oldest chartered bank, opens in Montreal,

Quebec

.

1847

11.19.1847

The second Canadian railway line, the Montreal and Lachine Railway, is opened.

1849

4.25.1849

The Governor General of Canada, Lord Elgin, signs the Rebellion Losses Bill, outraging Montreal's English population and triggering the Montreal Riots.

1875

3.3.1875

The first ever organized indoor game of

ice hockey

is played in Montreal, Canada as recorded in ''The Montreal Gazette''.

1885

1886

6.30.1886

The first transcontinental train trip across Canada departs from Montreal. It arrives in Port Moody, British Columbia on July 4.

1918

6.24.1918

First airmail service in Canada from Montreal to

Toronto

.

1920

1939

3.1.1939

Trans-Canada Air Lines (forerunner of

Air Canada

) begins transcontinental operations (between

Vancouver

and Montreal).

1952

9.6.1952

Canada's first television station, CBFT-TV, opens in Montreal.

1955

3.17.1955

The Richard Riot occurs in the streets of Montreal over the suspension of hockey legend

Maurice Richard

.

1963

11.29.1963

Trans-Canada Airlines Flight 831: A

Douglas DC-8

carrying 118, crashes after taking-off from Dorval Airport near Montreal.

1966

10.14.1966

The city of Montreal,

Quebec

, begins the operation of its underground Montreal Metro rapid-transit system.

1967

4.27.1967

Expo 67

officially opens in Montreal, Canada with a large opening ceremony broadcast around the world. It opens to the public the next day.

7.24.1967

During an official state visit to Canada, French

President Charles de Gaulle

declares to a crowd of over 100,000 in Montreal: ''Vive le Québec libre!'' ("Long live free Quebec!"). The statement, interpreted as support for Quebec independence, delighted many Quebecers but angered the Canadian government and many English Canadians.

10.29.1967

Montreal's World Fair,

Expo 67

, closes with over 50 million visitors.

1984

4.20.1984

The Good Friday Massacre, an extremely violent

ice hockey

playoff game, is played in Montreal, Canada.

1989

12.6.1989

The École Polytechnique Massacre (or Montreal Massacre): Marc Lépine, an anti-feminist gunman, murders 14 young women at the École Polytechnique in Montreal.