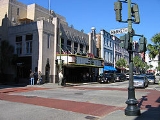 Charleston, South Carolina
Charleston is the second largest city in the U.S. state of South Carolina. It was made the county seat of Charleston County in 1901 when Charleston County was founded. The city's original name was Charles Towne in 1670, and it moved to its present location from a location on the west bank of the Ashley River in 1680...
Timeline of Events
1733

1.13.1733

1739

1773

1777

1780

1861

1.9.1861

1863

1886

8.31.1886

An earthquake kills 100 in Charleston, South Carolina.