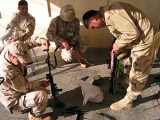 Militia
The term militia is commonly used today to refer to a military force composed of ordinary citizens to provide defense, emergency law enforcement, or paramilitary service, in times of emergency without being paid a regular salary or committed to a fixed term of service. It is a polyseme with multiple distinct but related meanings...
Timeline of Events
1636

1754

1771

5.16.1771

The Battle of Alamance, a pre-

American Revolutionary War

battle between local militia and a group of rebels called "The Regulators", occurs in present-day Alamance County, North Carolina.

1777

1780

10.7.1780

American Revolutionary War: Battle of Kings Mountain

American

Patriot militia defeat Loyalist irregulars led by

British

colonel Patrick Ferguson in

South Carolina

.

1863

1.26.1863

American Civil War: Governor of Massachusetts John Albion Andrew receives permission from Secretary of War to raise a militia organization for men of African descent.

1866

1877

1944

10.18.1944

Adolf Hitler

orders the establishment of a German national militia.

1982

9.18.1982

Christian militia begin killing six-hundred Palestinians in

Lebanon

.