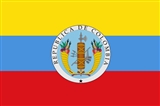 Gran Colombia
Gran Colombia is a name used today for the state that encompassed much of northern South America and part of southern Central America from 1819 to 1831. This short-lived republic included the territories of present-day Colombia, Venezuela, Ecuador, Panama, northern Peru and northwest Brazil. The first three were the successor states to Gran Colombia at its dissolution...
Timeline of Events
1821

11.28.1821

Panama Independence Day: Panama separates from

Spain

and joins Gran Colombia.

1830

5.13.1830

Ecuador

gains its independence from Gran Colombia.