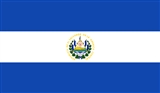 El Salvador
El Salvador or simply Salvador is the smallest and the most densely populated country in Central America. The country's capital city and largest city is San Salvador; Santa Ana and San Miguel are also important cultural and commercial centers in the country and in all of Central America...
Timeline of Events
1821

1851

1895

1953

1969

7.14.1969

Football War

: after

Honduras

loses a soccer match against El Salvador, riots break out in Honduras against Salvadoran migrant workers.

7.20.1969

A cease fire is announced between

Honduras

and El Salvador, 6 days after the beginning of the "

Football War

"

1980

3.23.1980

Archbishop Óscar Romero of El Salvador gives his famous speech appealing to men of the El Salvadoran armed forces to stop killing the Salvadorans.

12.2.1980

Four U.S. nuns and churchwomen, Ita Ford, Maura Clarke, Jean Donovan, and Dorothy Kazel, are murdered by a death squad in El Salvador.

1981

12.11.1981

El Mozote massacre: Armed forces in El Salvador kill an estimated 900 civilians in an anti-guerrilla campaign during the Salvadoran Civil War.

1986

10.10.1986

An

earthquake

measuring 7.5 on the Richter Scale strikes San Salvador, El Salvador, killing an estimated 1,500 people.

1989

11.16.1989

A death squad composed of El Salvadoran army troops kills six

Jesuit

priests and two others at Jose Simeon Canas University.

1992

1.16.1992

El Salvador officials and rebel leaders sign the Chapultepec Peace Accords in

Mexico City

ending the 12-year Salvadoran civil war that claimed at least 75,000.

2001

1.13.2001

An

earthquake

hits El Salvador, killing more than 800.

2.13.2001

An

earthquake

measuring 6.6 on the Richter Scale hits El Salvador, killing at least 400.