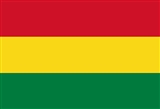 Bolivia
Bolivia officially known as Plurinational State of Bolivia , is a landlocked country in central South America. It is the poorest country in South America...
Timeline of Events
1809

7.16.1809

The city of

La Paz

, in what is today Bolivia, declares its independence from the Spanish Crown during the La Paz revolution and forms the Junta Tuitiva, the first independent government in Spanish America, led by Pedro Domingo Murillo.

1812

5.27.1812

Bolivian War of Independence: In Bolivia, the Battle of La Coronilla, in which the women from Cochabamba fight against the

Spanish

army.

1825

8.6.1825

Bolivia gains independence from

Spain

.

1839

1879

2.14.1879

3.23.1879

War of the Pacific

is fought between

Chile

and the joint forces of Bolivia and

Peru

. Chile takes over Arica and Tarapacá, leaving Bolivia as a landlocked country.

1932

7.20.1932

Crowds in the capitals of Bolivia and

Paraguay

demand their governments declare war on the other after fighting on their border.

9.29.1932

Chaco War: Last day of the Battle of Boquerón between

Paraguay

and Bolivia.

1935

6.12.1935

Chaco War ends: a truce is called between Bolivia and

Paraguay

who had been fighting since 1932.

1953

1967

10.8.1967

Guerrilla leader

Che Guevara

and his men are captured in Bolivia.

10.9.1967

A day after being captured, Marxist revolutionary Ernesto "Che" Guevara is executed for attempting to incite a revolution in Bolivia.

1983

1.19.1983

1993

4.21.1993

The Supreme Court in

La Paz

, Bolivia, sentences former dictator Luis Garcia Meza to 30 years in jail without parole for murder, theft, fraud and violating the constitution.

2003

10.18.2003

Bolivian Gas War: President Gonzalo Sánchez de Lozada, is forced to resign and leave Bolivia.

2006

1.22.2006

Evo Morales is inaugurated as President of Bolivia, becoming the country's first indigenous president.