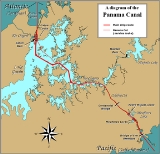 Panama Canal
The Panama Canal is a ship canal in Panama that joins the Atlantic Ocean and the Pacific Ocean and is a key conduit for international maritime trade. Built from 1904 to 1914, the canal has seen annual traffic rise from about 1,000 ships early on to 14,702 vessels measuring a total of 309.6 million Panama Canal/Universal Measurement System tons in 2008...
Timeline of Events
1880

1.1.1880

Ferdinand de Lesseps begins

French

construction of the Panama Canal.

1900

1902

6.28.1902

The U.S. Congress passes the Spooner Act, authorizing President

Theodore Roosevelt

to acquire rights from Colombia for the Panama Canal.

1903

1904

5.4.1904

1906

1909

8.24.1909

Workers start pouring concrete for the Panama Canal.

1913

10.10.1913

1914

8.15.1914

The Panama Canal opens to traffic with the transit of the cargo ship Ancon.

1977

1979

1999

12.31.1999

The

United States

Government hands control of the Panama Canal (as well all the adjacent land to the canal known as the

Panama Canal Zone

) to

Panama

. This act complied with the signing of the 1977 Torrijos-Carter Treaties.