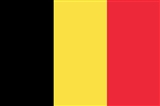 Belgium
Belgium , officially the Kingdom of Belgium, is a federal state in Western Europe. It is a founding member of the European Union and hosts the EU's headquarters, and those of several other major international organisations such as NATO.Belgium is also a member of, or affiliated to, many international organisations, including ACCT, AfDB, AsDB, Australia Group, Benelux, BIS, CCC,...
Timeline of Events
1792

4.28.1792

France

invades the Austrian Netherlands (present day Belgium), beginning the French Revolutionary War.

1795

10.1.1795

Belgium is conquered by

France

.

1830

10.4.1830

Creation of the state of Belgium after separation from The

Netherlands

.

1831

7.21.1831

Inauguration of Leopold I of Belgium, first king of the

Belgians

.

1835

5.5.1835

In Belgium, the first railway in continental Europe opens between

Brussels

and Mechelen.

1839

4.19.1839

The Treaty of London establishes Belgium as a kingdom.

1904

7.21.1904

Louis Rigolly, a

Frenchman

, becomes the first man to break the convert 100 barrier on land. He drove a 15-liter Gobron-Brille in Ostend, Belgium.

1914

1915

1917

11.6.1917

World War I

: Third Battle of Ypres ends: After three months of fierce fighting, Canadian forces take Passchendaele in Belgium.

1923

1.11.1923

Occupation of the Ruhr: Troops from

France

and Belgium occupy the Ruhr area to force

Germany

to make its

World War I

reparation payments.

1934

2.23.1934

Leopold III becomes King of Belgium.

1940

1944

9.6.1944

World War II: The city of Ypres, Belgium is liberated by allied forces.

12.26.1944

World War II: Patton's Third Army breaks the encirclement of surrounded U.S. forces at Bastogne, Belgium.

1957

1960

6.30.1960

Congo gains independence from Belgium.

1961

2.15.1961

Sabena Flight 548 crashes in Belgium, killing 73, including the entire

United States

figure skating team, several coaches and family.

1967

1978

5.12.1978

In

Zaire

, rebels occupy the city of Kolwezi, the mining center of the province of Shaba (now known as Katanga). The local government asks the U.S.A., France and Belgium to restore order.

1985

5.29.1985

Heysel Stadium disaster: At the European Cup final in

Brussels

, Belgium, 39 football fans die and hundreds are injured when a dilapidated retaining wall collapses after Liverpool F.C. fans breach a fence separating them from Juventus F.C. fans.

2003

2004

2009

1.23.2009

Dendermonde nursery attack occurred in Dendermonde, Belgium.