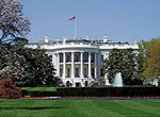 White House
The White House is the official residence and principal workplace of the president of the United States. Located at 1600 Pennsylvania Avenue NW in Washington, D.C., the house was designed by Irish-born James Hoban, and built between 1792 and 1800 of white-painted Aquia sandstone in the Neoclassical style. It has been the residence of every U.S. president since John Adams...
Timeline of Events
1792

1800

1814

1841

8.16.1841

U.S. President John Tyler vetoes a bill which called for the re-establishment of the

Second Bank of the United States

. Enraged Whig Party members riot outside the White House in the most violent demonstration on White House grounds in U.S. history.

1886

1901

1910

10.14.1910

The English aviator Claude Grahame-White lands his Farman Aircraft biplane on Executive Avenue near the White House in

Washington, D.C.

1917

8.28.1917

Ten Suffragettes are arrested while picketing the White House.

1922

1924

2.22.1924

U.S. President

Calvin Coolidge

becomes the first President to deliver a

radio

broadcast from the White House.

1932

7.20.1932

In

Washington, D.C.

, police fire tear gas on

World War I

veterans part of the Bonus Expeditionary Force who attempt to march to the White House.

1945

1.20.1945

Franklin Roosevelt's fourth and final inauguration is held at the White House due to wartime considerations.

1947

1962

1970

1972

6.17.1972

Watergate scandal

: five White House operatives are arrested for burglarizing the offices of the Democratic National Committee, in an attempt by some members of the Republican party to illegally wiretap the opposition.

11.30.1972

Vietnam War

: White House Press Secretary Ron Ziegler tells the press that there will be no more public announcements concerning

American

troop withdrawals from

Vietnam

due to the fact that troop levels are now down to 27,000.

1973

4.30.1973

1974

2.17.1974

Robert K. Preston, a disgruntled U.S. Army private, buzzes the White House in a stolen

helicopter

.

7.30.1974

Watergate Scandal

: U.S. President Richard M. Nixon releases subpoenaed White House recordings after being ordered to do so by the United States Supreme Court.

12.25.1974

Marshall Fields drives a vehicle through the gates of the White House, resulting in a four-hour standoff.

1975

1979

10.6.1979

Pope John Paul II becomes the first pontiff to visit the White House.

1989

5.4.1989

Iran-Contra Affair

: Former White House aide

Oliver North

is convicted of three crimes and acquitted of nine other charges. The convictions, however, are later overturned on appeal.

1993

9.13.1993

Israeli Prime Minister

Yitzhak Rabin

shakes hands with PLO chairman

Yasser Arafat

at the White House after signing an accord granting limited Palestinian autonomy.

1994

9.12.1994

Frank Eugene Corder crashes a single-engine Cessna 150 into the White House's south lawn, striking the West wing and killing himself.

10.29.1994

Francisco Martin Duran fires over two dozen shots at the White House (Duran is later convicted of trying to kill US President

Bill Clinton

).

1998

8.17.1998

Monica Lewinsky scandal:

US President Bill Clinton

admits in taped testimony that he had an "improper physical relationship" with White House intern

Monica Lewinsky

. On the same day he admits before the nation that he "misled people" about the relationship.