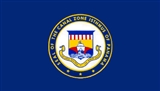 Panama Canal Zone
The Panama Canal Zone was a unorganized U.S. territory located within the Republic of Panama, consisting of the Panama Canal and an area generally extending 5 miles on each side of the centerline, but excluding Panama City and Colón, which otherwise would have been partly within the limits of the Canal Zone...
Timeline of Events
1903

11.18.1903

The Hay-Bunau-Varilla Treaty is signed by the

United States

and

Panama

, giving the United States exclusive rights over the Panama Canal Zone.

1964

1.9.1964

Martyrs' Day: Several

Panama

nian youths try to raise the Panamanian flag on the U.S.-controlled Panama Canal Zone, leading to fighting between U.S. military and Panamanian civilians.

1999

12.31.1999

The

United States

Government hands control of the

Panama Canal

(as well all the adjacent land to the canal known as the Panama Canal Zone) to

Panama

. This act complied with the signing of the 1977 Torrijos-Carter Treaties.