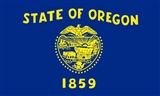 Oregon
Oregon is a state in the Pacific Northwest region of the United States. It is located on the Pacific coast, with Washington to the north, California to the south, Nevada on the southeast and Idaho to the east. The Columbia and Snake rivers delineate much of Oregon's northern and eastern boundaries, respectively...
Timeline of Events
1792

10.29.1792

Mount Hood (Oregon) is named after the British naval officer Alexander Arthur Hood by Lt. William E. Broughton who spotted the mountain near the mouth of the Willamette River.

1846

1859

2.14.1859

1880

1.9.1880

The Great Gale of 1880 devastates parts of Oregon and Washington with high wind and heavy snow.

1919

2.25.1919

1933

8.14.1933

Loggers cause a forest fire in the Coast Range of Oregon, later known as the first forest fire of the Tillamook Burn. It is extinguished on September 5, after destroying 240,000 acres (970 km²).

1942

6.21.1942

World War II: A

Japan

ese

submarine

surfaces near the

Columbia River

in Oregon, firing 17 shells at nearby Fort Stevens in one of only a handful of attacks by the Japanese against the United States mainland.