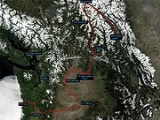 Columbia River
The Columbia River is the largest river in the Pacific Northwest region of North America. The river rises in the Rocky Mountains of British Columbia, Canada, flows northwest and then south into the U.S. state of Washington, then turns west to form most of the border between Washington and the state of Oregon before emptying into the Pacific Ocean...
Timeline of Events
1792

5.11.1792

Captain Robert Gray becomes the first documented white person to sail into the Columbia River.

1810

9.8.1810

The ''Tonquin'' sets sail from

New York Harbor

with 33 employees of

John Jacob Astor

's newly created Pacific Fur Company on board. After a six-month journey around the tip of

South America

, the ship arrives at the mouth of the Columbia River and Astor's men establish the fur-trading town of Astoria, Oregon.

1942

1948

5.30.1948

A dike along the flooding Columbia River breaks, obliterating Vanport, Oregon within minutes. Fifteen people die and tens of thousands are left homeless.