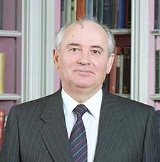 Mikhail Gorbachev
Mikhail Sergeyevich Gorbachev is a former Soviet statesman, having served as General Secretary of the Communist Party of the Soviet Union from 1985 until 1991, and as the last head of state of the USSR, having served from 1988 until its dissolution in 1991...
Timeline of Events
1985

3.11.1985

Mikhail Gorbachev becomes the Soviet Union's leader.

4.7.1985

Soviet leader Mikhail Gorbachev declares a moratorium on the deployment of middle-range missiles in

Europe

.

1986

12.19.1986

Mikhail Gorbachev, leader of the

Soviet Union

, releases Andrei Sakharov and his wife from internal exile in Gorky.

1987

1988

5.29.1988

U.S. President Ronald Reagan begins his first visit to the

Soviet Union

when he arrives in

Moscow

for a superpower summit with Soviet leader Mikhail Gorbachev.

1989

12.3.1989

Cold War

: In a meeting off the coast of

Malta

, US President

George H. W. Bush

and Soviet leader Mikhail Gorbachev release statements indicating that the

cold war

between their nations may be coming to an end.

1990

3.15.1990

Mikhail Gorbachev is elected as the first executive president of the Soviet Union.

9.2.1990

Transnistria is unilaterally proclaimed a

Soviet

republic; the Soviet president Mikhail Gorbachev declares the decision null and void.

10.15.1990

Soviet Union leader Mikhail Gorbachev is awarded the

Nobel Peace Prize

for his efforts to lessen

Cold War

tensions and open up his nation.

1991

8.19.1991

Collapse of the Soviet Union, August Coup: Soviet President Mikhail Gorbachev is placed under house arrest while on holiday in the town of Foros,

Crimea

.

8.20.1991

Collapse of the Soviet Union, August Coup: more than 100,000 people rally outside the

Soviet Union

's parliament building protesting the coup aiming to depose

President

Mikhail Gorbachev.

8.21.1991

Coup attempt against Mikhail Gorbachev collapses.

8.28.1991

Collapse of the Soviet Union – Mikhail Gorbachev resigns as Secretary of the Soviet Communist Party.

12.25.1991

Mikhail Gorbachev resigns as president of the

Soviet Union

(the union itself is dissolved the next day).

Ukraine

's referendum is finalized and Ukraine officially leaves the Soviet Union.