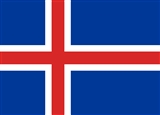 Iceland
Iceland , described as the Republic of Iceland, is a Nordic and European island country in the North Atlantic Ocean, on the Mid-Atlantic Ridge. Iceland also refers to the main island of the country, which contains almost all the population and almost all the land area. The country has a population of about 320,000 and a total area of...
Timeline of Events
1783

6.8.1783

The

volcano

Laki, in Iceland, begins an eight-month eruption which kills over 9,000 people and starts a seven-year famine.

6.22.1783

A poisonous cloud caused by the eruption of the Laki volcano in Iceland reaches Le Havre in

France

.

1899

2.16.1899

Knattspyrnufélag Reykjavíkur Iceland's first football club is founded.

1918

12.1.1918

Iceland becomes a sovereign state, yet remains a part of the Danish kingdom.

1935

1.28.1935

Iceland becomes the first Western country to legalize therapeutic

abortion

.

1941

7.7.1941

World War II

:

U.S.

forces land in Iceland, taking over from an earlier British occupation.

10.31.1941

World War II: The destroyer USS ''Reuben James'' is torpedoed by a

German U-boat

near Iceland, killing more than 100

United States Navy

sailors. It is the first U.S. Navy vessel sunk by enemy action in WWII.

1944

1946

1949

1972

1973

1.23.1973

A

volcanic

eruption devastates Heimaey in the Vestmannaeyjar chain of islands off the south coast of Iceland.

1986

10.11.1986

Cold War

: U.S. President Ronald Reagan and Soviet leader

Mikhail Gorbachev

meet in

Reykjavík

, Iceland, in an effort to continue discussions about scaling back their intermediate missile arsenals in

Europe

.

2000

2.26.2000

Mount Hekla in Iceland erupts.

2002

5.23.2002

The "55 parties" clause of the

Kyoto protocol

is reached after its ratification by Iceland.

2007

4.24.2007

Iceland announces that

Norway

will shoulder the defense of Iceland during peacetime.

2010

4.14.2010

Volcano Eyjafjallajökull erupts in Iceland resulting in massive disruption to air traffic in most of Europe

4.15.2010

Volcanic ash from the eruption of Eyjafjallajökull in Iceland leads to the closure of airspace over most of

Europe

.