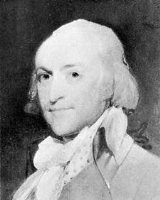 John Jacob Astor
John Jacob Astor , born Johann Jakob Astor, was a German-American business magnate and investor who was the first prominent member of the Astor family and the first multi-millionaire in the United States...
Timeline of Events
1808

4.6.1808

John Jacob Astor incorporates the American Fur Company.

1810

6.23.1810

John Jacob Astor forms the Pacific Fur Company.

9.8.1810

The ''Tonquin'' sets sail from

New York Harbor

with 33 employees of John Jacob Astor's newly created Pacific Fur Company on board. After a six-month journey around the tip of

South America

, the ship arrives at the mouth of the

Columbia River

and Astor's men establish the fur-trading town of Astoria, Oregon.