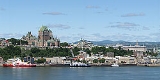 Quebec City
Quebec , also Québec, Quebec City or Québec City is the capital of the Canadian province of Quebec and is located within the Capitale-Nationale region. It is the second most populous city in Quebec after Montreal, which is about to the southwest...
Timeline of Events
1541

1608

1615

1620

6.3.1620

Construction of the oldest stone church in French North America, Notre-Dame-des-Anges, begins in Quebec City,

Quebec

, Canada.

1733

5.29.1733

The right of Canadians to keep

Indian

slaves is upheld at Quebec City.

1759

9.18.1759

1945

10.16.1945

The Food and Agriculture Organization is founded in Quebec City, Canada.

1968

5.24.1968

FLQ separatists bomb the U.S. consulate in Quebec City.