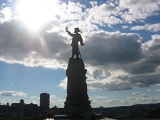 Samuel de Champlain
Samuel de Champlain , "The Father of New France", was a French navigator, cartographer, draughtsman, soldier, explorer, geographer, ethnologist, diplomat, and chronicler. He founded New France and Quebec City on July 3, 1608....
Timeline of Events
1604

6.24.1604

Samuel de Champlain discovers the mouth of the Saint John River, site of Reversing Falls and the present day city of Saint John, New Brunswick, Canada.

1608

6.3.1608

Samuel de Champlain completes his third voyage to

New France

at Tadoussac, Quebec.

7.3.1608

7.30.1608

At

Ticonderoga

(now Crown Point, New York), Samuel de Champlain shoots and kills two Iroquois chiefs. This was to set the tone for

French

-Iroquois relations for the next one hundred years.

1616

7.11.1616

Samuel de Champlain returns to

Quebec

.

1633

3.1.1633

Samuel de Champlain reclaims his role as commander of

New France

on behalf of Cardinal Richelieu.