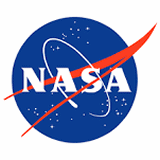 NASA
The National Aeronautics and Space Administration is the agency of the United States government that is responsible for the nation's civilian space program and for aeronautics and aerospace research...
Timeline of Events
1915

3.3.1915

NACA, the predecessor of NASA, is founded.

1958

10.1.1958

NASA is created to replace NACA.

10.11.1958

Pioneer program: NASA launches the lunar probe Pioneer 1 (the probe falls back to

Earth

and burns up).

1959

4.9.1959

Project Mercury

: NASA announces the selection of the United States' first seven

astronaut

s, whom the news media quickly dub the "Mercury Seven".

1960

9.8.1960

In Huntsville, Alabama, US President Dwight D. Eisenhower formally dedicates the Marshall Space Flight Center (NASA had already activated the facility on July 1).

1961

10.27.1961

NASA launches the first Saturn I

rocket

in Mission Saturn-Apollo 1.

1962

4.26.1962

NASA's Ranger 4 spacecraft crashes into the

Moon

.

8.27.1962

The Mariner 2 unmanned space mission is launched to

Venus

by NASA.

12.13.1962

NASA "Relay 1" launch, first active repeater communications

satellite

in orbit.

12.14.1962

1964

1965

3.23.1965

NASA launches Gemini 3, the

United States

' first two-man space flight (crew: Gus Grissom and John Young).

3.24.1965

NASA

spacecraft

Ranger 9, equipped to convert its signals into a form suitable for showing on domestic

television

, brings images of the

Moon

into ordinary homes before crash landing.

6.3.1965

Launch of ''Gemini 4'', the first multi-day space mission by a NASA crew. Crew-member Ed White performs the first American

spacewalk

.

1966

6.8.1966

One of the XB-70 Valkyrie prototypes is destroyed in a mid-air collision with a F-104 Starfighter chase plane during a photo shoot. NASA pilot

Joseph A. Walker

and

United States Air Force

test pilot Carl Cross are both killed.

11.11.1966

NASA launches Gemini 12.

1967

11.9.1967

Apollo program: NASA launches the unmanned Apollo 4 test spacecraft atop the first

Saturn V

rocket from Cape Kennedy, Florida.

1968

4.4.1968

Apollo program: NASA launches Apollo 6.

10.11.1968

Apollo program: NASA launches ''Apollo 7,'' the first successful manned Apollo mission, with

astronaut

s

Wally Schirra

, Donn F. Eisele and Walter Cunningham aboard.

1969

1970

1973

11.3.1973

Mariner program

: NASA launches the ''Mariner 10'' toward Mercury. On March 29, 1974, it becomes the first

space probe

to reach that planet.

1974

3.29.1974

NASA's Mariner 10 becomes the first spaceprobe to fly by Mercury. It was launched on November 3, 1973.

1975

8.20.1975

Viking Program

: NASA launches the Viking 1 planetary probe toward Mars.

1976

1980

11.12.1980

The NASA space probe ''Voyager I'' makes its closest approach to

Saturn

and takes the first images of its rings.

1982

3.4.1982

NASA launches the Intelsat V-508 satellite.

1988

1992

9.12.1992

NASA launches

Space Shuttle ''Endeavour''

on STS-47 which marked the 50th shuttle mission. On board are Mae Carol Jemison, the first African-American woman in space, Mamoru Mohri, the first Japanese citizen to fly in a US spaceship, and Mark Lee and Jan Davis, the first married couple in space.

1993

8.21.1993

NASA loses contact with the Mars Observer spacecraft.

1994

1996

2.17.1996

NASA's Discovery Program begins as the

NEAR Shoemaker

spacecraft lifts off on the first mission ever to orbit and land on an asteroid,

433 Eros

.

8.6.1996

NASA announces that the ALH 84001 meteorite, thought to originate from Mars, contains evidence of primitive life-forms.