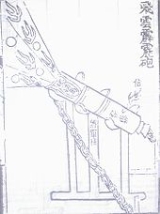 Ming Dynasty
The Ming Dynasty, also Empire of the Great Ming, was the ruling dynasty of China from 1368 to 1644, following the collapse of the Mongol-led Yuan Dynasty. The Ming, "one of the greatest eras of orderly government and social stability in human history", was the last dynasty in China ruled by ethnic Han Chinese...
Timeline of Events
1368

1.23.1368

In a coronation ceremony, Zhu Yuanzhang ascends to the

throne of China

as the Hongwu Emperor, initiating Ming Dynasty rule over China that would last for three centuries.

1402

7.17.1402

Zhu Di, better known by his era name as the Yongle Emperor, assumes the throne over the Ming Dynasty of China.

1405

7.11.1405

Ming

admiral Zheng He sets sail to explore the world for the first time.

1407

4.10.1407

the lama Deshin Shekpa visits the Ming Dynasty capital at

Nanjing

. He is awarded with the title Great Treasure Prince of Dharma.

1461

8.7.1461

The Ming Dynasty Chinese military general Cao Qin stages a coup against the Tianshun Emperor.

1633

1644

6.6.1644

The

Qing Dynasty

Manchu forces led by the Shunzhi Emperor capture

Beijing

during the collapse of the Ming Dynasty. The Manchus would rule China until 1912 when the

Republic of China

is established.