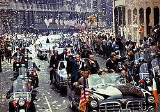 Ticker-tape parade
A ticker-tape parade is a parade event held in a built-up urban setting, allowing large amounts of shredded paper to be thrown from nearby office buildings onto the parade route, creating a celebratory effect by the snowstorm-like flurry...
Timeline of Events
1886

10.29.1886

The first ticker-tape parade takes place in

New York City

when office workers spontaneously throw ticker tape into the streets as the

Statue of Liberty

is dedicated.

1927

1969

8.13.1969

The ''

Apollo 11

'' astronauts are released from a three-week quarantine to enjoy a ticker-tape parade in

New York

. That evening, at a state dinner in

Los Angeles

, they are awarded the Presidential Medal of Freedom by U.S. President

Richard Nixon

.