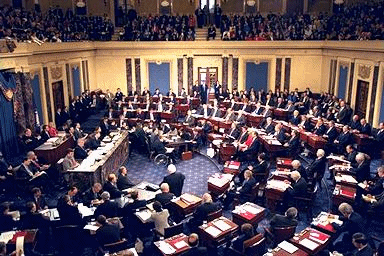 Impeachment
Impeachment is a formal process in which an official is accused of unlawful activity, the outcome of which, depending on the country, may include the removal of that official from office as well as other punishment....
Timeline of Events
1804

1805

3.1.1805

Justice Samuel Chase is acquitted at the end of his impeachment trial by the U.S. Senate.

1868

5.26.1868

The impeachment trial of U.S. President

Andrew Johnson

ends with Johnson being found not guilty by one vote.

1871

3.22.1871

In

North Carolina

, William Woods Holden becomes the first governor of a

U.S. state

to be removed from office by impeachment.

1974

1988

4.4.1988

Governor Evan Mecham of

Arizona

is convicted in his impeachment trial and removed from office.

1998

1999

2004

4.6.2004

Rolandas Paksas becomes the first president of

Lithuania

to be peacefully removed from office by impeachment.